The Parking Place has teamed up with Cake Marketing to provide their network clients with the best redirect solution in the industry!
Every day, publishers lose out on revenue from traffic that isn't accepted by an offer. For example, if you have an offer that only accepts Canadian traffic, users from other countries that fill out your offer, will result in unpaid leads. By working with The Parking Place, we are able to help you monetize those users by sending them to a geo-targeted page with country specific offers, thereby generating more revenue for you.
Getting started is easy! Simply create an account, set-up your redirect link and start increasing your revenue. Once you've created your account, you can request your redirect link by clicking on 'Request Support' in the top navigation and creating a ticket. If you've been assigned an Account Manager, they can also provide you with a redirect link. Below are specific instructions on how to correctly set-up your geo-redirect link in the Cake Marketing platform.
How to set-up your geo-redirect URL:
After you login to your Cake Marketing account, open your Tracking Settings.
Where it says 'Global Redirect:' enter your link from The Parking Place and click save. This will redirect the following:

Inactive Affiliate
Inactive Sub Affiliate
Blocked IP Address
Blocked Referrer
Invalid Incoming Link
Missing Affiliate Info
Affiliate Not Authorized for Campaign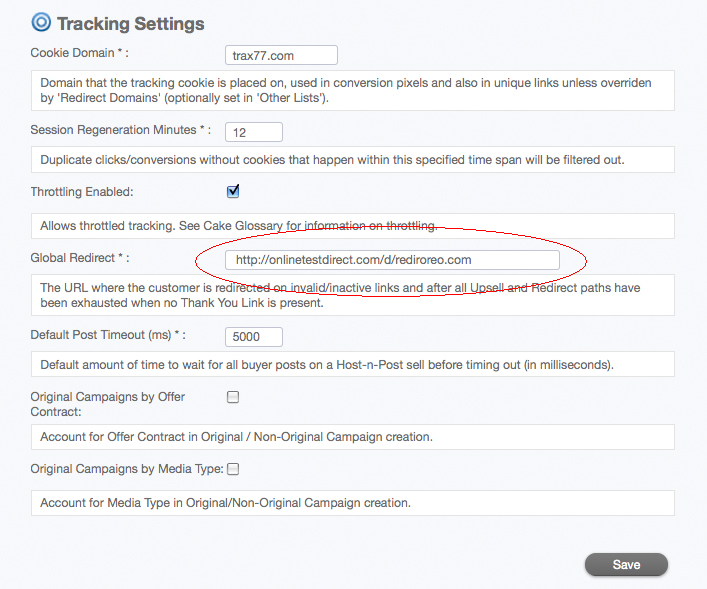 You are now on your way to making more money and providing ease of mind that you have a solid back-up for any untargeted traffic. Please visit our FAQ Page if you have any other questions about how our platform works. If you are unable to find the answers to your questions, please contact your account executive, or you can fill out our Contact Form and we will respond within 1 business day.